Tax Preparation Services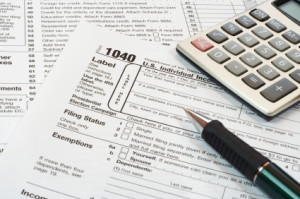 Filing your taxes is probably one of your least-favorite annual chores. That said, waiting until the last minute and then scrambling to finish the task on time isn't the answer. Take the stress and frustration out of tax preparation by hiring the experienced pros at The Levy Group of Tax Professionals. We're pleased to help individual taxpayers and business entities throughout Indianapolis with an array of tax services, including income tax preparation. Our tax preparers are all highly qualified experts in the field. Our firm has been in business for 22 years, and we hold professional affiliations with the ASTPS, the NATP, and the NATRC. If you want to trust that your tax return is in good hands, give The Levy Group of Tax Professionals a call today!
Tax preparation can be confusing and overwhelming even for the most straightforward of returns. If you have any special circumstances, such as working multiple jobs, owning your own business, or having many rental properties or other sources of income, the process can become even more complex. Let The Levy Group of Tax Professionals take the guesswork out of income tax preparation. We're prepared to help you with:
Federal returns
State returns
Local returns
Business returns
Payroll tax preparation services
And more!
When you call to discuss your needs, we'll partner you with a tax preparer who's right for the job. Our top priorities are providing expert tax preparation service and giving you a quick turnaround, so your tax woes will be over sooner. We also strive to offer some of the lowest rates in Indianapolis and the surrounding area for tax services, including federal and state tax preparation for businesses and individuals. At The Levy Group of Tax Professionals, we understand that filing your taxes properly is a necessity to your financial security, and we'll work hard to ensure that you get the accurate, thorough tax preparation service you deserve.
Late Tax Return Filing
In addition to filing new returns, The Levy Group of Tax Professionals is available for delinquent tax preparation services. Whether you're one year behind or a dozen, our tax preparers can help you gather the necessary paperwork, calculate what you owe, file those late returns, and negotiate tax settlements to help you pay your debt. It's never too late to resolve your tax problems. Learn more by contacting us now!
Whatever your local, federal, or state tax preparation needs, and whether you're an individual or you own or run a business, you can count on The Levy Group of Tax Professionals for some of the best service in Indianapolis. Call for a free cost estimate to work with a tax preparer, and to schedule your appointment. We'll make tax season a breeze. 
Tax Filing Service
Tax Prep Service
File Tax Service
Tax Preparation Services